Well, in fact we welcome Vintage Guitars as a new brand in our portfolio of cool guitar brands, and we'll share plenty of great stuff from them, but let's start by showing you a couple of guitars right from the top of the line.
In short, Vintage Guitars is all about quality guitars and basses that have a classic look and feel combined with modern features, great sound, top-notch playability, and very slim prices! There is a story behind Vintage Guitars that seems to have simply cracked the code and found the perfect balance between quality, features and price, but we will share that very soon.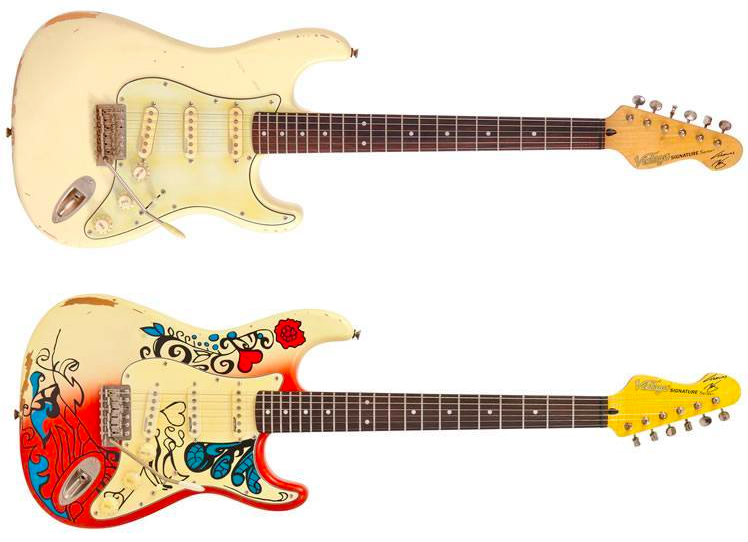 For now, we'd like you to meet two of their top instruments. The Thomas Blug Signature that is available in two different versions, each with its own unique character. The Thomas Blug Signature ICON is a classic-looking Strat type guitar with a smooth relic treatment, Wilkinson hardware and pickups, maple neck with rosewood fingerboard and an alder body.
The Thomas Blug 'Summer of Love' is very similar in terms of construction and parts, but it has a completely different look and feel with a Hendrix-style reversed headstock and handpainted graphic arts that instantly spark your inner flower-power, wish-I experienced-Hendrix-at-Woodstock rock juices!
OK, let's have Thomas Blug introduce his 'Summer of Love' Strat himself. Make sure to watch the video all the way through, as he also demos it in a band context on the stage towards the end.
Oh, did we mention that these übercool guitars are priced below €500? Well, they are! Yet, they sure sound, feel and play like much more expensive guitars 🙂
Thomas Blug 'Summer of Love' V6MRHDX Specifications
Body: Alder with hand applied graphics
Neck: Hard Maple – Bolt On
Fingerboard: 7 1/2″
Frets: 21
Tuners: Wilkinson® Deluxe WJ55D EZ-Lok™
Vibrato: Wilkinson® WVCD
Scale: 25.5″/648mm
Pickups: 3 Wilkinson® Single Coils, Aged ivory (N) WVS (M) WVSM rw/rp(B) WHCC (Back tone push/push hum-cancelling extra coil)
Controls: Volume, 2 Tone, 5-Way Selector
Scratchplate: 3-ply distressed
Hardware: Nickel
Thomas Blug Signature ICON V6MRTBG Specifications
Body: Alder
Neck: Hard Maple – Bolt On
Fingerboard: 7 1/2″
Frets: 21
Tuners: Wilkinson® Deluxe WJ55D EZ-Lok™
Vibrato: Wilkinson® WVCD
Scale: 25.5″/648mm
Pickups: 3 Wilkinson® Single Coils, Aged ivory (N) WVS (M) WVSM rw/rp(B) WHCC (Back tone push/push hum-cancelling extra coil)
Controls: Volume, 2 Tone, 5-Way Selector
Scratchplate: 3-ply distressed
Hardware: Nickel