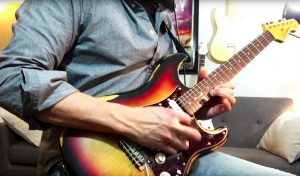 We have absolutely no doubt that Vintage's ICON series gives you the most guitar (or bass!) for the price. And once you have checked out Guitar Lava's demo and review of the V6 strat, we bet you'll agree with us!
Jumping right to the conclusion of the Guitar Lava review: "This guitar has a lot of sounds to it. It's very versatile and it stays in tune, which is awesome! And you just can't beat it for the price – it's everything I was hoping for. An inexpensive guitar with all the right components."
But how did Guitar Lava reach this conclusion? Well, three main parts are emphasized as being the secret behind making a cheap guitar sound and feel like a very expensive guitar. First, the tuning mechanisms are locking, and the E and A strings even have two holes, which means that you can run the string through the lower hole, wind it and then run it through the upper hole before curring the wire, which helps the guitar stay in tune. Secondly, adding to that a graphite nut also contributes to staying in tune for long periods of time. In fact, it is a mystery to the reviewer why other (and more expensive) guitar brands don't do this as standard because it actually makes a real difference!
And finally, the Wilkinson pickups are stressed as being a key factor that simply makes the ICON series sound amazing. In fact, the demo part of the video is very detailed when it comes to isolating each of the 5 pickup configurations – both in the intro jam and in the actual review where they are demonstrated both in a rhythm and lead context, as well as with plenty of overdrive and a more crunchy tone.
As the Guitar Lava reviewer points out: "It looks awesome, it feels great and I haven't put it down since I got it. Actually, I ended up buying four different Vintage guitars within a week because I was so impressed with them!"
Well, no more words. Now, watch the Guitar Lava review of the Vintage ICON V6 guitar. Enjoy!