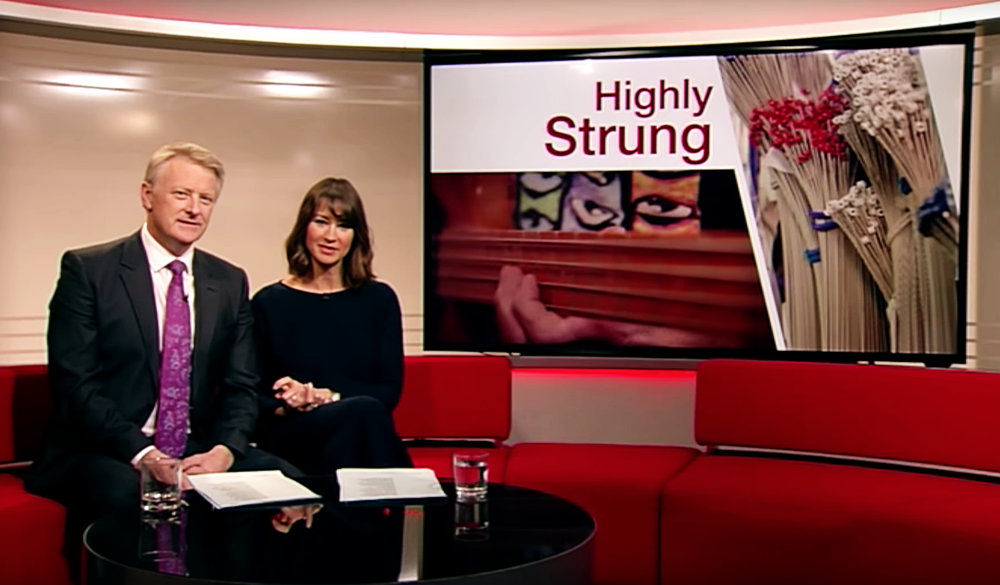 Tuning into the BBC South East Today show, the above is a pretty standard-looking scenario, but look again. A bass fretboard is taking up the background. That's unusual… And just to the right of it there are some pretty weird-looking bouquet of flowers – or so it appears. Taking a closer look, you'll notice that they're bundles of bass strings. Rotosound bass strings tp be precise!
So, when brands in our industry get airtime on the mainstream media, it's usually because there's trouble ahead (did anyone say Gibson!?) but this time it's different. Rotosound appeared on BBC simply as a recognition of a job extremely well done – continually over six decades!
During the feature, BBC briefly sums up the highlights from Rotosound's impressive list of high-profile artist and bands, including The Beatles, The Who Pink Floyd and The Jam, and then moves on to a good old-fashioned factory visit hosted by no other than bass-playing chairman Jason How, whose father James How founded the company back in 1958. Check out BBC's Rotosound coverage in this video. Enjoy!